Inventory and Linen Management (Beta)
Ensuring your vacation rental properties are well-stocked with necessities and amenities is tricky. There's making sure you have the supplies on hand to replenish items after each stay, monitoring real-time changes in inventory, and tracking associated costs to forecast expenses and capture billables from homeowners. Cleanster.com's inventory management program uses data from property care tasks to help you manage your inventory and maintain high-quality properties.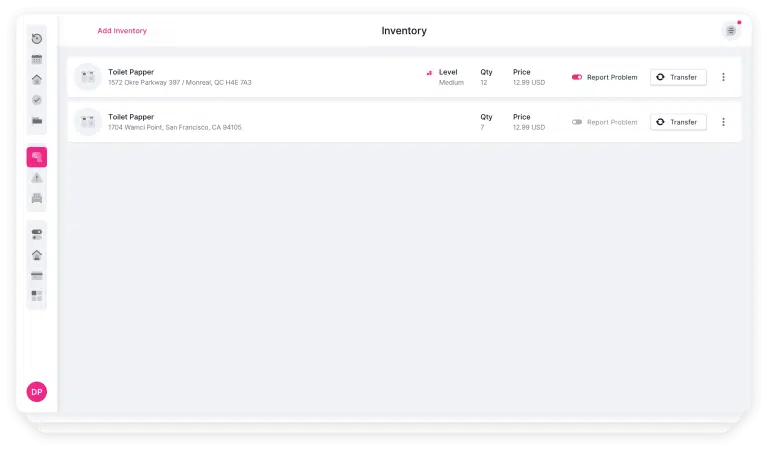 Monitor Inventory Levels from One Consolidated View & Ensure Every Supply is Well-Stocked.
It's hard for short-term rental professionals to track their supplies inventory and be confident they have items on-hand to prepare each vacation rental property for check-in. Cleanster.com 's inventory management dashboard lets you see which supplies are running low, making it easy to track your supplies across your entire operation. 
Easily Manage Your Inventory by Updating Supply Counts, Details, & Costs.
There are a lot of moving parts to your vacation rental operation that affect the supplies you have on hand. Our supplies dashboard lets you manage and track every detail by creating new supplies, adding stock counts and costs, configuring thresholds and notifications for low stock alerts, bulk upload lists, and much more.
Associate Supplies with Work and Automatically Deduct Stock Upon Task Completion.
You shouldn't have to manage and track your inventory manually. Our property operations tools help you associate supplies with specific tasks, meaning your supply counts will automatically update when maintenance repairs and other property care tasks are completed.
Access Historical Records for Each Supply to See Where, When, and How It Was Used.
Retaining a record of work for associated supplies and changes to inventory count drives more operational insights for your business. When you click on each supply, Cleanster.com surfaces each inventory change, adjustment reason, timestamp, associated staff member and task, and more.
Export Supply History & Associated Costs to Forecast Future Expenses and Capture Billables. 
It can be difficult for your team to know what supplies to bring when turning over a property. Cleanster.com 's inventory tools make it easy for you to create, export, and print supply sheets so staff can pack the right items for the right property.
OUR BENEFITS
Why use our platform
PMS Integrations
Integrations with leading PMS systems and IoT devices to harness the power of your data. 
User Planning
Monitor staff's daily and weekly availability to easily manage task assignments.
Auto-Scheduling
Auto-schedule property care tasks based on reservation times and custom rules.